Kumhrar is an Ancient City in Patna Bihar, located in 5 Km east from Patna Railway Station . in the Mauryan Period (322-185 BCE) has been Discovered Kumhrar and Hypostyle 80 Pilar Hall.  The 80 Pillared Hall has been Referred to king Ashoka Hall. people visit here to see the Mauryan Hall Pilar and know about this park. this beautiful park designed by the help of Government of Bihar for the purpose of Tourist. In Side the Park, there is a Museum Hall, where the 80 pillared hall kept. 
Today this Place Kumhrar is Famous For Kumhrar Park . in the time of excavation some revelation was found in this park . some of the name & Details are given here.
Assembly Hall of 80 Pillars: – During the Excavation work one polished stone pillar of Fragments were found. The excavator was able to trace 72 pits of ash and rubble on the site which marked the position in which others pillars must once have stood. this pillared hall is known as "Assembly Hall of 80 Pillars".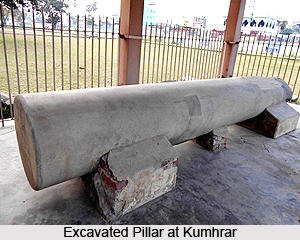 Anand Bihar: – The foundation of the Brick Buddhist Monastery have excavated apart from wooden beams and clay figures, which are now kept inside the park for public Display.
Arogya Vihar: – This place also Found During the Excavation work. Arogya Vihar was headed by the Dhanvantari, an early Indian medical practitioner.
 Durakhi Devi Temple: – During the Excavation a detached piece of a carved stone railing of Stupa, with a female figure in both side. Giving it the name Durukhi or Durukhiya (Double Faced ) Devi.
How to Reach: –  Kumhrar Park is Located 5 Km east from Patna Railway Station. you can Visit there by the prepaid Bus or own Vehicle. the park is situated on the Main Road Near Kankarbagh.
Entry Timing:- 10 AM to 4 PM.
Entry Fees: –  Rs. 15/- (For Indian Citizen )
                        Rs. 200/- (For Foreigner)
Nearest Railway Station: – Patna Railway Station.
Nearest Bus Terminal: – Mithapur
Address: – Kumhrar, Patna, Bihar 800026.